Thinking about Cloth Nappies?
Grab yourself a bargain and take advantage of our sale!
Up to 50% off Cloth Nappies & Accessories.  While stocks last.
It's that time of year…. after the exhaustion of Christmas & New Year…time to kick start 2017 with a sale! Up to 50% off items in our store. Lots of bargains to had and gems hidden amongst the many items.
Sale ends 8th January. Enjoy!
Ugh. So, trying to potty train our twins… and it is not going well. Going by history (i.e. eldest boy), our kids just love the convenience of going in diapers as opposed to the loo. I've tried it all – the running around nappy free, using big boy pants, and they just don't seem to get it. Which is fine & dandy, but when you have pre-school starting soon, the alarm bells ringing in my head are driving me to insanity over this issue… we've been at it since the beginning of July.
One boy has caught onto the concept of big-boy pants, and keeps relatively dry, but as soon as the diaper goes on for nap time, the flood gates are open, and at end of nap is wet.  It's not the end of the world, but I don't want him holding in his wees either!
Our other boy I've had to temporarily put a hold on training, as I've been left a bit scarred having to clean poop smeared all over our playroom (thankfully room had been recently tidied, so toys dodged it), all whilst asking my 5 year old to occupy the 2 year old daughter and drag her away from a messy toddler & playroom.
Wee accidents are a doddle to clean up, but OMG poop ones are so SO bad.
I just got in the NEW Charlie Banana 2-in-1 Swim Nappy & Training Pant this week – so I really want to test drive it on my twin who had the big-boy-pant poop explosion. It's got nifty side snaps, to ensure quick & easy removal if soggy (from swimming) or dirty (when potty training).  I'll be sure to post a review when I've taken the pant through it's paces!
In the meantime, if you'd like to pass on any hints or tips on potty training boys or girls, I'd be grateful 🙂
Did you know that in 24 months, a baby will need about 5,300 nappy changes, creating around 2.5 tonnes of nappy waste?
For a family with one baby, half of a typical waste bin will consist of disposable nappies.
By switching to cloth nappies, parents can save around €1000 (disposable brand dependent) when using cloth nappies over disposables, more if the cloth nappies are reused on other babies – this is a particular important saving in the current economic climate!
Making the switch to cloth nappies doesn't necessarily have to be for environmental reasons.
See our range of Cloth Nappies & Accessories HERE and start saving your money today!
Did you know…
Baltic Amber Necklaces CANNOT be marketed, labelled or associated for use on babies or children younger than 36months due to the composition of small parts and NOT because of any question over the amber itself? Any retailer who does market or label the necklace for babies or young children, is breaking the law. If a parent chooses to use the amber necklace on any child, especially on one under 36 months, this is solely the parent's choice, responsibility & at their own discretion.
Did you know…
The pop clasp design is a big factor in the safety equation for amber necklaces nowadays?
Instinctively, parents think the easy open clasp appears unsafe, but actually if the necklace was caught on something, the pop clasp should reduce chance of strangulation by popping open when a particular pressure is applied.
Screw clasps, on the other-hand, do not release automatically. The European Union ( EU ) defines screw clasp as a strangulation hazard and stipulate that a clasp must release automatically under a tension of 27 Newtons (6 Pounds).
The effect of this law is that it is NOT LEGAL to sell necklaces with screw clasps: anyone who sells screw clasp necklaces in Europe is breaking the law.
Did you know…
As well as each bead being individually knotted to prevent separation from other beads, our necklaces have been officially tested & conform to the requirements of cord strength, and that this in itself is another requirement when retailing amber necklaces? Not all retailers have a test report to prove their necklaces conform to this new safety requirement.
Although the pop clasp & cord strength requirements are new safety features, we (including manufacturers and EU) still emphasize to consumers to ALWAYS supervise their children when wearing the necklace – as the new features are not completely fail-safe.
I'm sure you've seen/read somewhere, other parents putting their child for a nap, bath, or leave them play (out of sight of parent), while wearing a necklace, or those that 'never ever take it off' their child – DON'T EVER DO THIS! The necklace & clasp comes apart to reduce strangulation: this is why it is SO IMPORTANT for children to be supervised AT ALL TIMES when using a necklace, as a child's tugging may be hard enough to trigger the safety release, presenting the child with a choking hazard if unsupervised.
See our range of Baltic Amber necklaces
We've received a few queries about this from parents, worried about cloth nappies leaving red marks. You know those marks you notice on your little one's waist or thigh after a nappy change? We've all been there.
Red marks aren't all bad: there are varying degrees of them… and it's totally normal to get them with an elasticated garment.  Question is, when is the red mark a sign of a nappy 'betting' into baby from being too tight?
If a mark is pink, and are light imprints from the elastic, all is fine and they should disappear within a few minutes.
If a mark is dark red or purple, and a deep imprint on the skin that doesn't disappear after a few minutes, then the cloth nappy is on too tight & possibly chafing.
We stumbled across a great article by Dirty Diaper Laundry a while back that gives excellent information on red marks left by cloth nappies, and what's a 'bad' mark versus a 'normal' mark, with images as examples.  This is definitely a must-read for any cloth-diapering parent out there.
We currently have 3 children in cloth nappies – but hopefully once Summer comes into full swing, our twin boys will be up for the challenge of potty training.
Sure, we use cloth nappies on all the kids – it saves us a fortune, but I gotta admit it: we use disposables at night. I'm not ashamed… I want my full night's sleep! We did do full-time cloth nappies with our eldest boy – worked out great. Yes, we got the very occasional leakage but it was nothing detrimental.  Baby got changed (whinged a bit) but when clean & dry, he got back to sleep.
When the twins arrived, and they finally started sleeping through the night, I have to admit the thought of having to get up in the middle of the night and change a sopping cloth nappy & wet clothes off a wailing baby, who'd no doubt wake up his other brother (who was also a baby)…made me cringe.  Yeah night leaks don't happen that often, but there was no way in hell I was gonna chance it.  It was then that I threw in the towel on night time cloth nappies, to have dry babies at night, and a nice bed for me to cosy into for at least 8 straight hours.
I'm not scared of night-time cloth nappies – I just want to make the most of my own night sleep. Screaming Looking after 4 small kids during the daytime is tiring enough without having the impact of *possible* night-time wakings to compound it.
If you choose to use cloth nappies on your children – don't feel guilty if you don't go full-time. We all operate family life at different paces & situations, and you just need to make things fit. Switching to cloth nappies part-time can make such a positive difference to your household budget – if & when you're ready to try night cloth diapers, go for it.
For the time-being, if I need to get up in the middle of the night for one of the children, I know I'll rock a dry clothes baby to sleep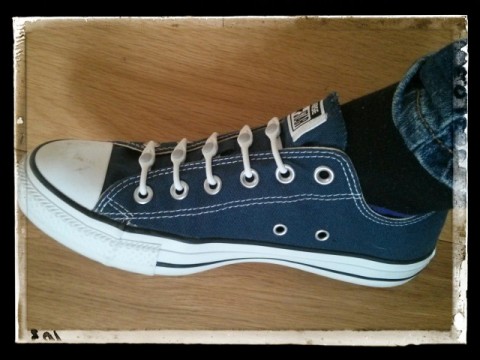 I HATE tying shoelaces: I prefer to just slip on my shoes, rather than spend 2 minutes loosening laces, putting foot in, tighten laces, then tie them up….times two.
I mean, with 4 kids under 4, I literally just want to put on my shoes & go!
Thing is, when I'd slip on a pre-tied pair of shoes, they're never as snug as what they would be had I tightened the laces. Was there a nifty product out there that would get my shoes on darn quick, and also look good??  There was….
HICKIES is an elastic lacing system that replaces traditional shoelaces and turns any sneaker into a slip-on. Style your footwear with your own signature and never tie or untie your shoes again.
Hickies had me intrigued. I wanted to try them out & see were they as good as they sounded. I bought 2 packs of Hickies and tried these babies out for 2 months…
They are the bees knees!
The laces are still as tight as the day I put them onto my shoes. What's more Hickies made my shoes look good too: when you're in a shoe shop, how many of the shoes on display have their laces tied?  None! The laces are always tucked inside the shoe… Hickies give you that same sleek look, but with the snugness of a tied shoelace!  Check out how they look on my Converse!
Hickies can inject a bit of colour into your shoe too!
Mix & match laces… Whatever you want.
Hickies have been tried & tested here at JoeyRoo HQ, and I'm pleased to say that this is definitely a product we highly recommend!
A lot of people are scared to try cloth nappies – they think it's hard to do, messy or expensive…BUT believe it or not, it really isn't!!
We've done the math, and disposables have a bigger impact on your wallet AND the environment in comparison to cloth nappies! And today's cloth nappies are far more easier to use & clean than yesteryear's terry nappies!
Read our information sheet: Thinking about using cloth nappies?.
If you're ready to make the switch to cloth nappies, be sure to read: What do i need to get started with cloth nappies?
If you still have questions about cloth nappies, just contact us!
So, after having 4 children: 2 pregnancies were c-section, 3 children were breech, and a family history of hip issues, our newest arrival was diagnosed with borderline hip dysplasia (DHH), and had to wear a Pavlik Harness continuously for 6 weeks. Poor little mite!
The Pavlik harness can be a mean contraption – the edge of the strapping can be quite sharp and cause chaffing on baby's delicate skin!  While fitting our little one with the harness, the physiotherapist told us to put something on her legs to protect them from being chaffed…. Hello BabyLegs!