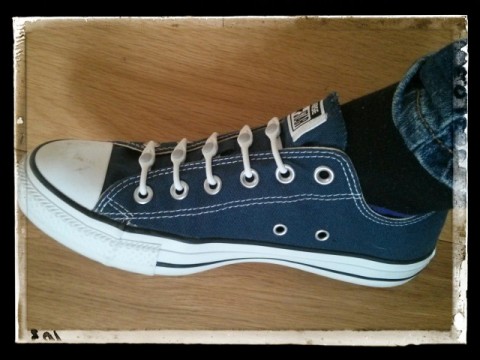 I HATE tying shoelaces: I prefer to just slip on my shoes, rather than spend 2 minutes loosening laces, putting foot in, tighten laces, then tie them up….times two.
I mean, with 4 kids under 4, I literally just want to put on my shoes & go!
Thing is, when I'd slip on a pre-tied pair of shoes, they're never as snug as what they would be had I tightened the laces. Was there a nifty product out there that would get my shoes on darn quick, and also look good??  There was….
HICKIES is an elastic lacing system that replaces traditional shoelaces and turns any sneaker into a slip-on. Style your footwear with your own signature and never tie or untie your shoes again.
Hickies had me intrigued. I wanted to try them out & see were they as good as they sounded. I bought 2 packs of Hickies and tried these babies out for 2 months…
They are the bees knees!
The laces are still as tight as the day I put them onto my shoes. What's more Hickies made my shoes look good too: when you're in a shoe shop, how many of the shoes on display have their laces tied?  None! The laces are always tucked inside the shoe… Hickies give you that same sleek look, but with the snugness of a tied shoelace!  Check out how they look on my Converse!
Hickies can inject a bit of colour into your shoe too!
Mix & match laces… Whatever you want.
Hickies have been tried & tested here at JoeyRoo HQ, and I'm pleased to say that this is definitely a product we highly recommend!